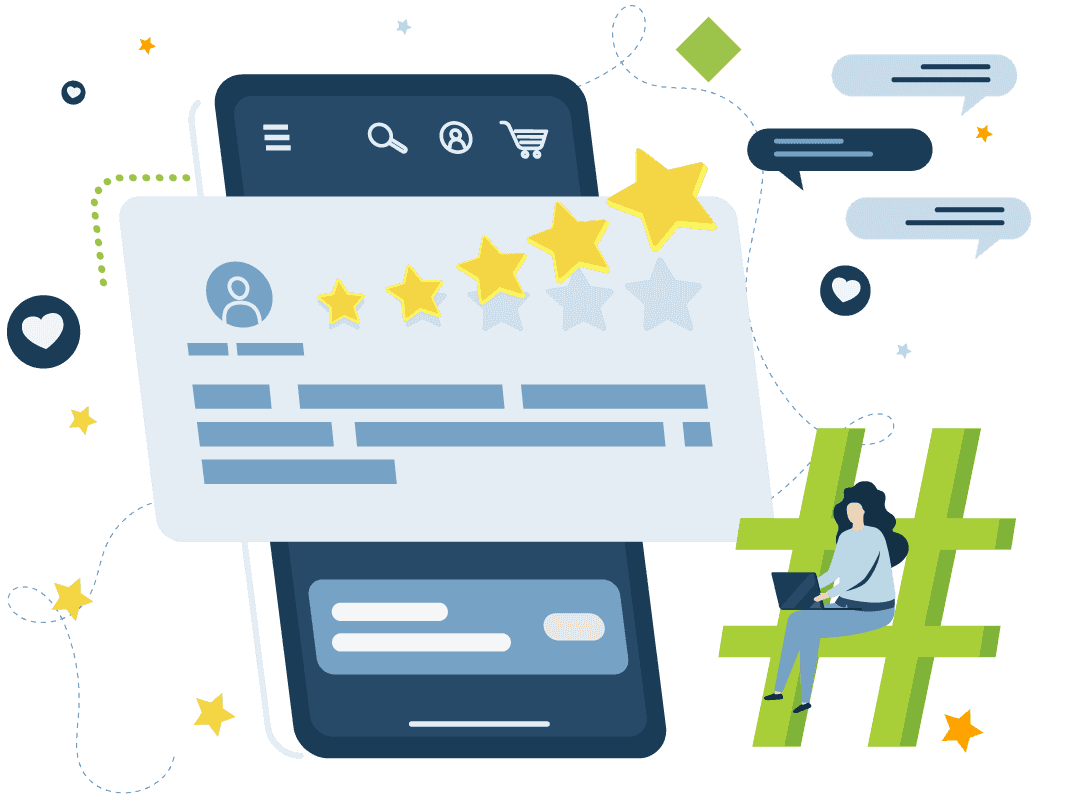 What Is Brand Reputation Management?
To put it simply, brand reputation management encompasses any efforts taken by a business to create and maintain trust in their brand. Successful reputation management strategies focus on fostering a positive brand image through proactive measures, not simply reacting to feedback as it comes along. Having a proactive reputation management strategy allows you to anticipate potential concerns and address them before they even happen. It's crucial to stay attuned to your customers' expectations, needs, and preferences so you can shape their perceptions and reinforce positive associations with your brand.
Do Reputation Management Services Work?
How many ways can we say "absolutely"?
Reputation management services can help establish a positive brand image for your business in several ways. Through high-quality content, they can craft favorable brand narratives across multiple platforms to increase public interest and trust on the front end. They can determine the various channels where your brand reputation can be influenced and create strategies to help you engage with your target audience more effectively. Reputation management services also handle your review resolutions by promptly responding to customer questions or concerns. Quick responses to negative reviews can effectively turn a poor customer experience into an example of your brand's honesty and commitment to customer satisfaction.
How Riverworks Utilizes Review Platforms To Manage Your Brand Reputation
The team at Riverworks Marketing works hard to understand your business and customer base in order to initiate, respond to, and resolve reviews, which in turn can help boost your search engine rankings. We employ the latest software to initiate "Review Us!" campaigns via text message or email to gain valuable customer feedback for our clients. This feedback can illuminate opportunities for our clients to improve their services and products while simultaneously enhancing customer retention and brand reputation. These campaigns can increase positive reviews for our clients, and our software even allows us to direct negative reviews offline so you can address those privately. This reputation management service puts a spotlight on the strengths of your business while providing the opportunity to mitigate potential damage to your brand's image.
How To Respond To Negative Reviews.

Critiques can be difficult to swallow, especially when they are published online for all to see. As a business owner, you strive to give all your customers the best service possible, and when someone expresses dissatisfaction through a review it can be upsetting. How do you respond to a negative review? Through immediate communication and attentiveness to an upset customer, you can address a customer's concerns and maintain a favorable reputation at the same time.
By utilizing third party reputation management services with Riverworks Marketing, you can be sure that any negative feedback is handled quickly and empathetically. Our team can expertly craft a response to any negative review that addresses the reviewer's concern while also considering the broader audience who may read their complaint. Potential customers often read reviews and review responses when considering your business, and our strategic approach to customer communication can preserve your brand health.
Put Your Trust In Our Reputation Management Services To Build Trust With Your Customers
A successful business and a strong brand reputation go hand in hand.
Through our comprehensive reputation management services, Riverworks Marketing can help you control your brand's narrative online and strengthen your relationships with customers in the process. Through our strategic approach to review management, you can experience higher customer engagement, brand loyalty, and improved search engine rankings without sacrificing your time and energy. Contact us today to see how our reputation management strategies can benefit your business.