We're good people helping businesses succeed.
What is Riverworks?
Riverworks is a full-service creative agency located in Chattanooga, TN that specializes in online marketing. Through a variety of marketing-centered services, our agency reaches millions of online users each month for our clients through effective web design and digital marketing strategies including SEO, Google AdWords, social media management, email newsletters, reputation management, and more.
Established in 2006, we're one of Chattanooga's longest-standing digital marketing agencies. We count ourselves lucky to have worked with more than 650 clients across the United States from small, local businesses to national brands, helping them with everything from digital strategy and graphic design to custom websites, and well– everything in between.
Our team is passionate, talented, and eager to turn your marketing goals into measurable success stories you'll want to yell from the rooftops. We operate with our core values– Excellence, Creativity, Integrity, Commitment, Initiative, Growth, Community, Positivity, and Fun– leading the way, and we see the many ways these guiding tenets strengthen our daily work.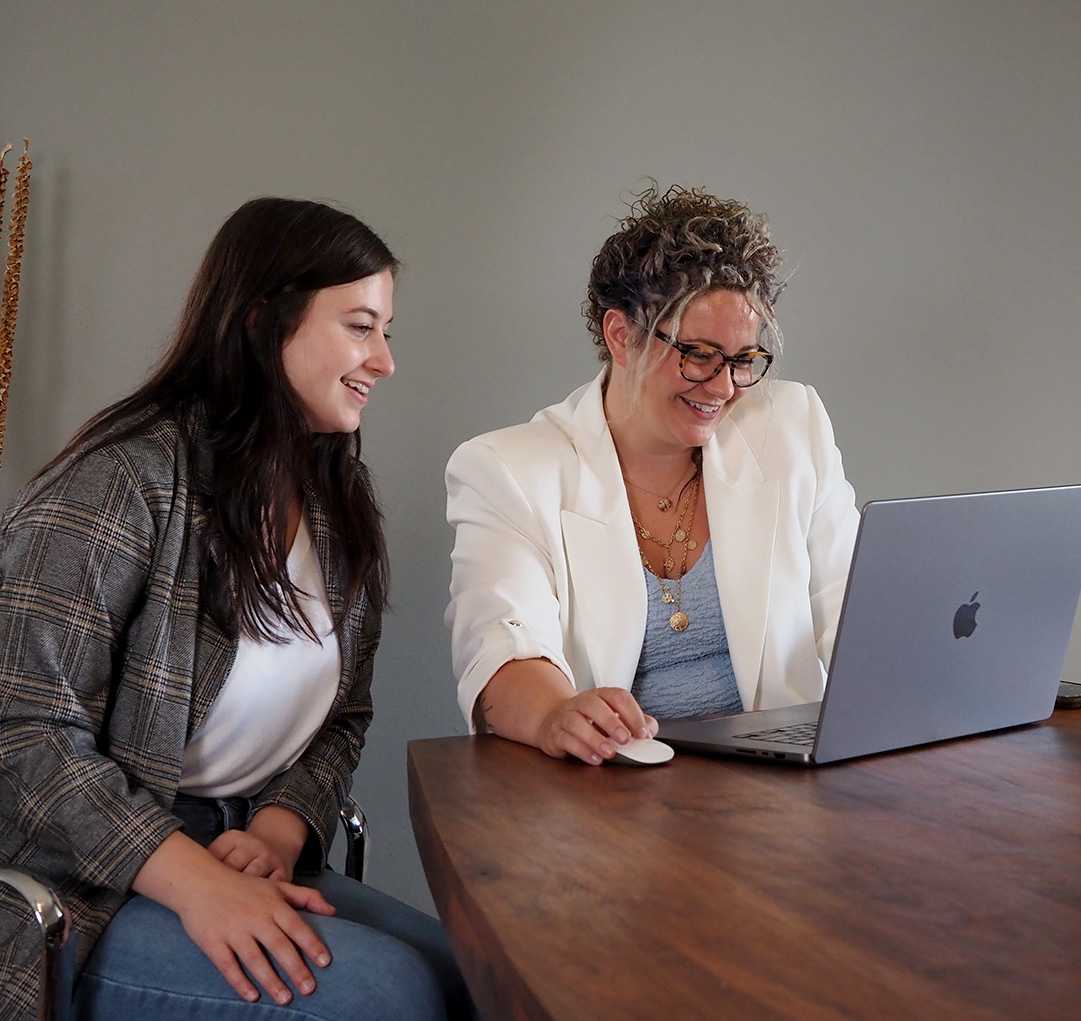 Creative to the Core
Our Team
Whether it's web development, graphic design, or content creation, every staff member at Riverworks is an expert in their field; but more than that, we view your successes as our own.

Discover

First, our team will get acquainted with your brand. Who are you? What do you do? Our discovery process leads to a description of key elements such as your brand guide, target audience, customer value proposition, competitive position, and key marketing messages.

Strategize

Based on your brand identity and business goals, we will develop strategies to connect you to your target audience in impactful ways, employing techniques we believe will produce the best return on your investment.

Create

The strategies established will dictate the digital and print materials necessary to best deliver your messaging, and our creative team will work their magic to create custom materials for this very purpose. From websites to landing pages to digital ads to newsletters, logos, and brand work, we will tell your story creatively and cohesively across platforms.

Deploy

Now it's time to put these strategies creative materials out into the world to do their work for you. We bring the campaigns to life that we have defined in the earlier steps of our process, and closely monitor successes and opportunities for improvement.

Analyze

We track and analyze growth behavior, producing reports and documenting key performance metrics to illustrate the success of our campaign efforts. In short, when we figure out what works and why we can do more of just that for your business

Adjust

Along the way, we adjust our strategies and efforts based on these analytics. We do whatever is necessary to produce the best results, which requires us to be ready and willing to tweak things from time to time. The result? A continuous cycle of improvement
RWM Core Values
No matter the project or the client, these are the values that guide us in our work. It's thanks to the character of our team that our business has grown into the creative powerhouse we are today!
Commitment
Our team is devoted to each other, to our clients, and to our craft. We love what we do, and we strive to do it well, always.
*We're wholly dedicated because this work matters to us.
Excellence
We appreciate a high-set bar. We strive to create results-driven solutions that are built for durability, with craftsmanship always in the lead.
*We seek to do our best work, every time because we're invested in the process and the results they produce.
Integrity
We are marketing professionals, but above all, we're good people. We believe that good character matters, and we make honesty and ethical business practices the backbone of our company.
*Always behave with integrity and honesty. We think being good people is the most important thing.
Community
We know we are more powerful together than we are alone, and that joining forces, acting as a unified whole, renders us all more successful in every way. That's why our team focuses on collaboration, mutual respect, practiced empathy, and an intentional company culture that provides a jumping off point for making marketing magic– together.
*We believe in the magic of teamwork, and that we're better together.
Growth
We never want to be stagnant, as we know growth is vital to survival. We're committed to constantly sharpening ourselves, both personally and professionally, so that we can continue to deliver the best possible solutions to our clients across an ever-changing backdrop.
*We know that continual growth leads to better results for our clients, and deep down we love to learn.
Positivity
Minds are powerful. We actively cling to good, because we know that positive thinking leads to positive outcomes. We consistently look for opportunities to lift each other up so we can keep doing our very best work.
*We embrace positive thinking and focus on good because we know there's great power in that.
Creativity
Our driving force, creativity, is the common thread that runs through each of our team members. We're united by an innate need to find a new angle, follow a new rabbit trail, and create unique solutions to the marketing challenges facing our clients every day.
*Innovation and creativity drive our work, and we wouldn't have it any other way.
Fun
We don't want to work for the weekend, we wanna love what we do. When you enjoy your work and who you're working alongside, the job isn't toil. It's fun. We never want to lose touch with the fun things in life, and we seek to inject that playful passion into our everyday lives, even when we're at the office.
*To us, fun is essential. We love what we do, so we enjoy doing it. Plain and simple.
Initiative
We're a roll-up-our-sleeves type crew. When we see an opportunity to be and do better– for ourselves, our team, or our clients– we take action. We're always proactive and find ways to make great things happen on our own and as a team.
*We're doers, starters, inciters– always looking for opportunities to make great things happen.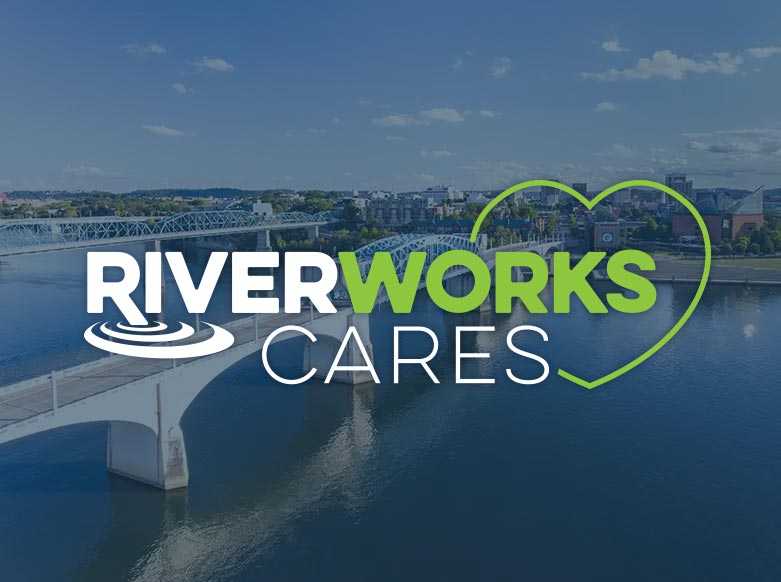 Riverworks Cares.
#riverworkscares
Community is one of our core values at Riverworks. Our creative team has a heart for Chattanooga, and we actively seek opportunities to get involved whenever possible. Our founder and marketing strategist, Jackie Errico, serves as a board member for Chambliss Center for Children, a local nonprofit that provides important services to Chattanooga children and families in need. She also serves on the advisory board for Chattanooga State Community College, and Riverworks has hired talented students from this local college.
The rest of our team works to bolster the efforts of the Chambliss Center, while also finding other ways to donate time and help support local nonprofits and causes we believe in. We love finding ways to use our talents and resources to help further the work of local organizations that are doing good right here in our hometown, and we seek to build relationships with other businesses that also wish to invest in our community.